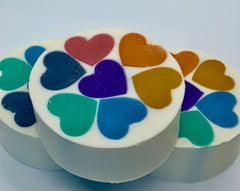 February is American Heart Month and Congenital Heart Disease Awareness Month.  Congenital heart disease is the world's most common birth defect and affects more than 1.35 million infants each year or roughly 6.2:1000 live births in North America. Through advanced care and treatment many of these kids go on to live safe and healthy lives.  In fact, there are now more than 800,000 adults in the US today living with CHD.
Families raising a child with CHD know the importance that research brings to their hopes for a long and healthy life for their child.  Without access to specialized centers that offer advances in surgical care and treatment many children wouldn't have the opportunities for long-term survival.  
This bar will be the first of a new series of Soap 4 Hope.  Concord Hill Farm plans to offer a specialty bar each quarter that benefits a cause for humanity, the environment, or animal welfare.  100% of all sales of these bars will be designated for a particular charity.  This month we are supporting the Boston Children's Heart Foundation.  This charitable organization promotes fellowships, research grants, clinical investigations, as well as providing care to patients regardless of ability to pay.  
We thank you from the bottom of our hearts for keeping #CHDaware.
Scrub the one you love <3
Kristie